Psychotherapist, Psychiatric staff nurse, Family therapy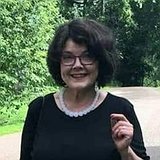 Helsinki, Videovastaanotto
I am a couple and family therapist and a psychiatric nurse. I have worked in psychiatric clinics for 30 years and had a private practice for 11 years. My areas of expertise are family crisis, parenting issues, divorce thoughts, and the reaching of optimal conditions for a good divorce. I also have experience in work supervision in child welfare institutions and refugee centers. In my practice, the therapy is shaped to meet the clients' needs. We start together by mapping the situation and learning the "common language". After that, we make a goal for the treatment. We move towards the goal together through discussion and various exercises. If necessary, I also talk separately with family members. The aim is to provide the customer with the tools that can help you face and overcome challenges in life. In addition, I support dialogue to improve communication between couples. Together, we plan the frequency of appointments to meet the customers' needs in accordance with the situation.
Psychotherapeutic Orientation
Family therapy
Couple therapy
About me as a therapist
Asiakkaakseni ovat lämpimästi tervetulleita niin perheet, parit kuin perheenjäsenetkin. Työskentelen aina yhteistyössä asiakkaan tai asiakkaiden kanssa. Keskeisintä työssäni on oppia kuulemaan asiakkaiden tavoitteita ja ymmärtämään heidän tapaansa kuvata tilannettaan. Terapeuttina olen osallistuva, puolueeton ja empaattinen. Arvostan ja kuuntelen tarkasti asiakkaan omaa näkemystä tilanteestaan. Tarjoan pareille ja perheille kaikkia osapuolia kunnioittavan kohtaamisen sekä työkaluja haasteiden käsittelemiseen.
About my therapy sessions
Vastaanotollani jokaisen asiakkaan terapia muotoutuu juuei hänelle sopivaksi. Aloitamme yhdessä kartoittamalla tilannetta ja opettelemalla "yhteistä kieltä". Tämän jälkeen teemme hoidolle tavoitteen. Tavoitteeseen kuljemme yhdessä keskustelun ja erilaisten harjoitusten avulla. Tarvittaessa keskustelen myös erikseen perheenjäsenten kanssa. Pyrkimyksenäni on tarjota asiakkaalle ymmärrystä ja työkaluja haastavaan elämäntilanteeseen. Lisäksi tuen pariskuntien ja perheenjäsenten välistä dialogia. Tapaamiskertojen tiheyden suunnittelemme yhdessä asiakkaan toiveisiin ja tilanteeseen sopivaksi.
Issues often worked with