Psychological therapy
Psychologist, No psychotherapeutic education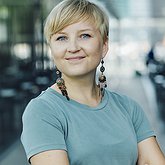 This therapist is a licensed psychologist and healthcare professional. They are not, however, a licensed psychotherapist and thus not eligible for e.g. Kela's psychotherapy reimbursements.
Read More.
Kaipaatko apua esimerkiksi mielialaan, itsetuntoon, ihmissuhteisiin tai työssäjaksamiseen liittyvissä ongelmissa? Tarjoan sinulle tukea elämän kriisitilanteissa ja apua niin pienempien kuin suurempienkin ongelmien tutkimisessa ja ratkaisemisessa.
Psychotherapeutic Orientation
No psychotherapeutic education
About me as a therapist
Minulle on tärkeää myötätuntoinen ja hyväksyvä suhtautuminen asiakkaan yksilölliseen kokemusmaailmaan. Psykologina haluan lisätä asiakkaiden ymmärrystä omasta tunne- ja ajatusmaailmastaan sekä suhteestaan niin itseensä kuin toisiin ihmisiin ja ympäröivään maailmaan. Tarjoan asiakkaille turvallisen vuorovaikutussuhteen, jossa käsitellä vaikeitakin tunteita ja ajatuksia.
About my therapy sessions
Istunnoilla hahmottelemme yhdessä asiakkaan kanssa kuvan nykytilanteesta ja hänen keskeisiksi kokemistaan ongelmista sekä määrittelemme tavoitteen työskentelylle. Autan asiakasta löytämään ja tavoittelemaan itselleen merkityksellisiä asioita sekä tunnistamaan tekijöitä, jotka tällä hetkellä estävät häntä elämästä täysipainoista elämää. Pyrimme yhdessä aktiivisesti työskentelemällä helpottamaan tilannetta ja lisäämään asiakkaan voimavaroja sekä työkaluja ongelmien käsittelyyn myös tulevaisuudessa.
Issues often worked with